KINSEI technology to detoxify infectious waste
by original gasification incinerator!!
Good news for the following companies.
Waste management
company

Engineering company

Hospital
Furnace maker


(incinerator, industrial furnace, APC)

Government
Business Form
Licensing

Distributor
Agency

Export(ODA)
Ability of some scale incinerators
Plant images
Ability
5-10 ton/day
50-500kg/day
10-30ton/day
Location
small centralized facility
Hospital
Large centralized facility
Target
infection
industrial waste
infection
infection
industrial waste
Operator
4 persons
1 person
10 persons
Heat recovery
○
△
◎
Advantage
Good economy from income and running costs.
To detoxify infectious waste on site.
Good for the collaboration with MSW plant.
KINSEI has the superior technology of the incinerator.
Medical waste has a risk of infection, the proper treatment is important.
Incineration is the most safe compared with autoclaving, disinfection, and melting.
Usual incinerators, the running cost is high, also generates environmental pollutants.
KINSEI incinerator, running cost is cheap, environmental pollutants also very small.
Installation benefits
> Safety
Very short time a worker contacted with the waste because of all at once to inject.
Unnecessary pre-treatment of the waste.
Easy operation for automatic operation.
> Economy
Auxiliary fuel is unnecessary because only in the energy of the waste can be high-temperature self-combustion.
Hot water and steam recovery also possible in the waste heat utilization.
Maintenance costs are cheap since the moving parts less unbreakable.
> Environmental
Environmental pollutants like carbon monoxide and dioxins are extremely small by complete combustion.
The amount of ash is also very small. Ignition loss less than 3%
Waste water treatment facilities are not required because of no waste water.
What is Gasification?
Gasification is chemical reaction.
Candle does not burn directly.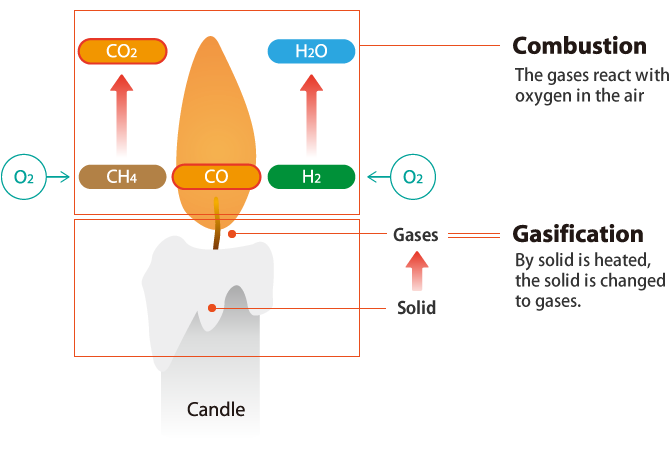 KINSEI technology "gasification"
is based on the principals of combustion reaction.
KINSEI Gasification combustion system Outline
Controlled gasification
Gasification temperature prevents air from flowing back into the gasification furnace and combustion furnace. [patent]
The ideal gasification through structure and control.
Kinsei gasification Combustion System is composed of two bach gasification furnaces and one combustion furnace.
The waste materials are charged in the gasification furnace A by the feeding system. And repeat several times, gasification furnace A is filled up to capacity.

After full charge, the gasification furnace A is ignited.

Gasification is proceed with keeping constant temperature and gas volume of the combustion furnace by automatic control system.

In the meantime, the waste materials are charged in the gasification B, and the gasification furnace B is filled to capacity.

And when the gasification of gasification furnace A is concluded, the gasification is switched from A to B, and A progress to next step " cooling".

After the temperature of A go down, the workers discharge the ash from A, and clean up the reactor.

This is one cycle of Kinsei gasification combustion System.

It is possible to continue operation according switching two gasification furnace alternately.
Recognition story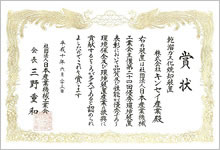 Japan Society of Industrial
Machinery Manufacturers Corporation
Envi ronmental prescrvation and
indtistrinL devetopnient clistingtiishcd-
services commendation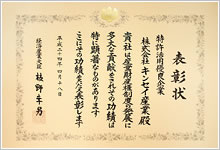 Minister of Economy, Trade and
Indttstry Awards
(Enterprises Excelling in Patent
Exptoitaiton)

Aivards for ENce[lent Enterprises Active
in the Industrial Property Rights System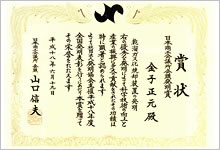 Japan lnstitute of lnvention
andlnnovation Corporation
National invention commendation
lapan Chamber of Commerce and
tndustry Chairman prize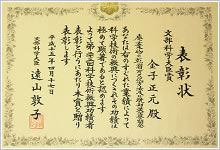 Dry distilRation gasification system
Minister of Edtication. Culture,
Sportt , Science and Technology prize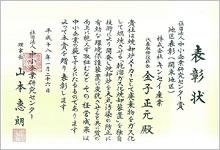 Medium and Small Business
Research Snstitute prize
Area conitnendfttion asyard